Today more and more people are choosing apartment in the city over a huge house or a cottage in the suburbs. However, the thing that those people seem to miss is no land for gardening. Luckily, there is a solution – growing vegetable garden on a balcony or terrace is not that difficult. And with a new solutions that are offered for those 'urban gardeners', the processes has become organic, easy, and fun.
Vegetables have a short production cycle - some can be harvested within 60 days of planting, so are well suited for growing in a balcony or terrace. To ensure you are buying and growing plants that are suited to your particular weather zone, choose wisely, e. g. the brand 'Seklos', which is one of several new brands of seed packets on the Scandinavian market. They have almost 200 different varieties and covers up to 90 % of the varieties in demand.
Can everyone be a gardener?
For those who want to grow organically for the sake of their own health as well as to show the greatest possible respect for our environment, 'Seklos' offers simple solutions. And that means it is easy to succeed!
Organic seeds on a seed tape, making it easier for everybody who wants to cultivate vegetables and, first and foremost, organically. The advantages with seed tapes are, easier to sow, germinates faster and simultaneously, no need for thinning, gives a larger crop, optimum spacing between the plants, gives a larger crop. The seed tape is easy to use anywhere - in flowerpots, balcony flower boxes or in the vegetable patch.
Another example is hermetically sealed packets that protect the seed portions from external damage, for instance, from damp and light. Gives guaranteed germination for longer period.
A third example of the simple solutions is the plant label to be found in each packet. With the name of what you have sown, label will help you to remember what you have sown. It withstands rain and bad weather.
'Seklos' assortment consists of 190 varieties with two different target groups: urban garden and traditional. 'Urban garden' are varieties that can be cultivated easily anywhere - windowsills, balconies, conservatories or allotments. The range has been specially selected to easily give a good crop that is also decorative. Many of the seeds are organic and can be cultivated all year round on the windowsill or on a glazed balcony. 'Traditional seeds' are the most popular varieties and selected for the climate in Scandinavia.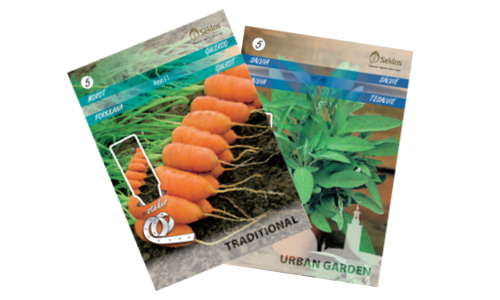 What's new in the market?
There are many new exciting varieties that previously have been unavailable on the Scandinavian market. Some of them - with exceptional ability to fit into small growing spaces!
CUCUMBER PONNY F1 - new trend in 2016. Very crispy snack sized fruits have smooth skin, excellent flavor, and texture. Suitable for salads and can be served uncut. Fruits are 10-14 cm long. Disease-resistant hybrid!
PEPPER CHILI POSEIDON - decorative, red and green fruits that have very strong taste. Suitable for canning and fresh consumptions. 40-60 days after sowing sprouts have to be planted in a permanent place.
TOMATO DUO - mini tomatoes with a perfect taste. Valued for unique shape (looks like an apple!), 50-60 grams fruits are very tasty and have a thin skin. Select a sunny place, protected from the winds for cultivation.
CARROT ARON F1. This year's top news on the market – tasty and crispy baby carrots. Root crops are bright orange, very tasty, suitable for fresh consumption, canning, or juicing. Harvested 60-65 days after sowing, seeds are spread out on a paper tape to maintain equal distances, to avoid thinning.
SQUASH PALADIN F1 - decorative and tasty, good for potting. Zucchini with decorative leaves and fruits perfectly flourish both in balconies, and garden beds. For early harvests, sow seeds into pots, inside.
It is obvious, that nowadays you can make your own garden anywhere, you just need to use your imagination and find the perfect brand of seeds. With a few containers, some space on a sunny balcony, and a few suitable tools you can grow your own favorite organic vegetables.